Over the river and through the woods, to Grandmother's house we go!
Okay, so I'm pretty sure this song isn't about Little Red Riding Hood, but she
is
on her way to Grandma's with her basket full of goodies. Of course, Little Red wouldn't be complete without her signature cape & hood!
Enter the
Traveler Cape by Stitchwerx Designs
.
The
Traveler Cape
is so versatile. It's a dual-layer cape (long and caplet), but can be made with just one layer (as I have done) if desired. The cape consists of three panels which help keep its shape at the shoulders. The pattern pairs well with S138 Joyce Ann Bonnet too.
I seriously debated having my Little Red Riding Hood wear a bonnet instead of a hood just to show the cuteness! Alas, I chose adding a hood (not included). I will sew a Joyce Ann Bonnet soon though! It's on "the list".
Pattern Highlights:
Sizes 12/18m - 8/10y

Dual-layer cape - long and caplet

Pattern pieces to print: 15 pages for XS/S, 27 pages for M, L, and XL

Tutorial: 11 pages of thorough instruction with a clear picture each step of the way

Charts included: Sizing, Finished Measurements, Yardage, Layout, and Pattern Construction

Suitable for a confident beginner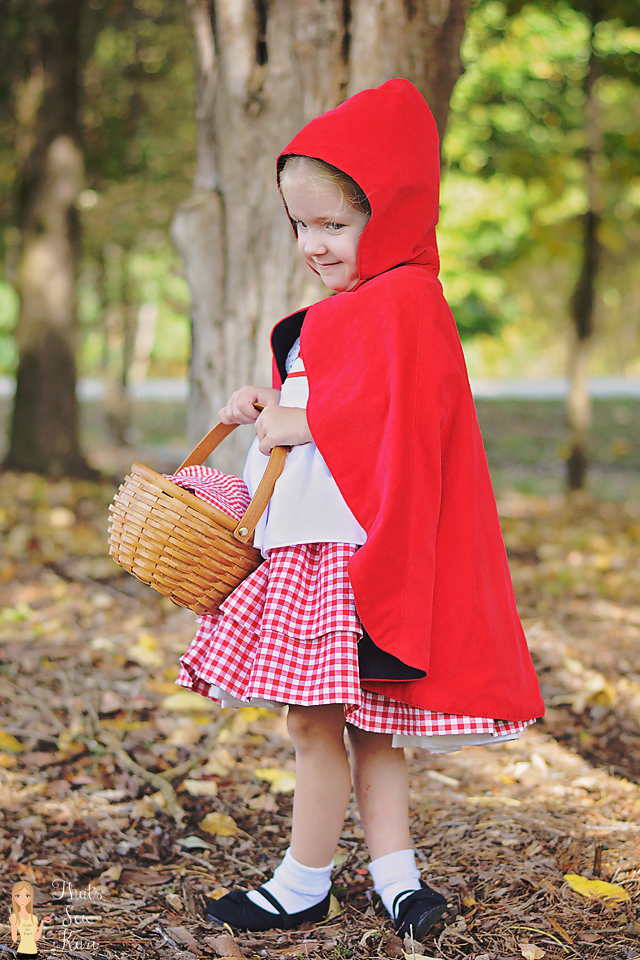 For this cape, I selected a gorgeous
21 wale corduroy by Kaufman
and lined it with a black broadcloth. The corduroy is so soft, just be sure to make sure you cut the corduroy in the proper direction (it should feel soft when you run your hand downward).
Adding the hood was rather easy. The hood I selected (from the Soda Pop Polo - Candy Castle Patterns) also had a collar stand. So I simply added the hood to the collar stand from The Traveler Cape using the instructions from the polo pattern, then picked back up with the cape instructions for attaching the collar stand to the main cape.
You think that Big Bad Wolf scares me?
Puh-lease!! He hasn't seen my tantrums!
My 3 year old daughter is all set for Halloween festivities thanks to the Traveler Cape from Stitchwerx Designs.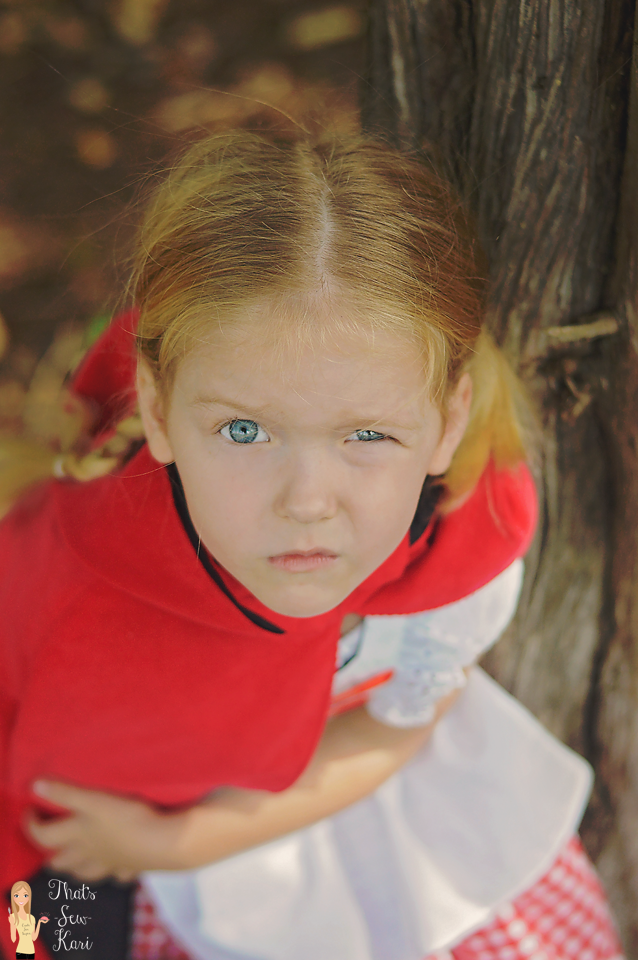 You say you want a SALE??

Save 25% off every pattern at Stitchwerx Designs
with the code SEWKARI at checkout.

But, hurry because this sale expires
Thursday 10/16/14 11:00pm (EST)

Because the coupon is good for all of your pattern purchases, here are some of my other Stitchwerx Designs favorites!!
Bentley Harness, Rosemary & Thyme Pants
Essential Leggings and Lane Raglan
Psst.... want to take a peek at what's under the cape?