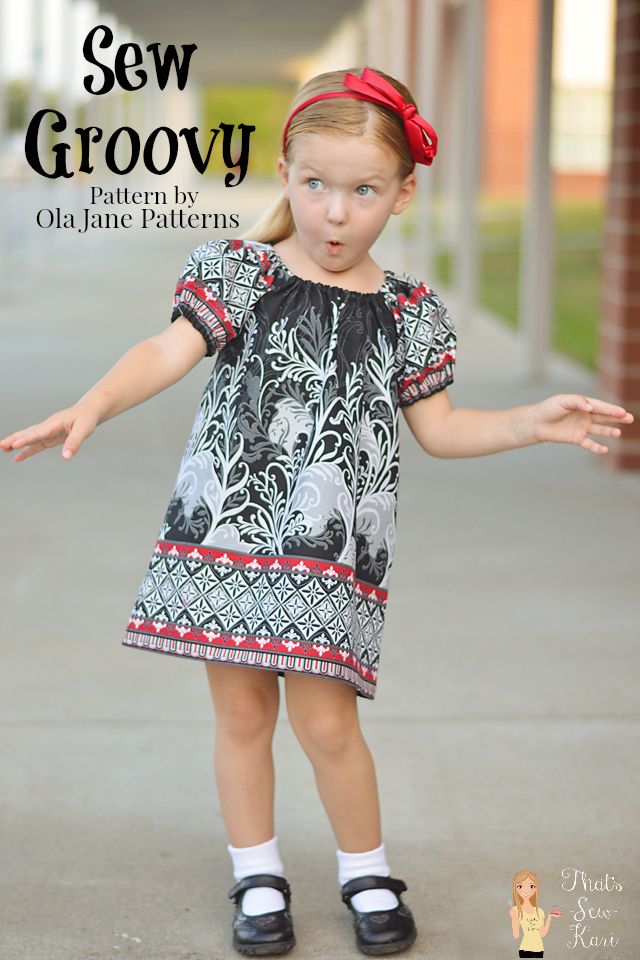 NOW available in sizes 6m - Girls' 14
WHOA -- things just got a little bit GROOVIER at Ola Jane Patterns!
Sew Groovy
just got UPsized!!! Outta sight, right?
Now, I'm no child of the 60s, but there's nothing wrong with channeling your inner hippie.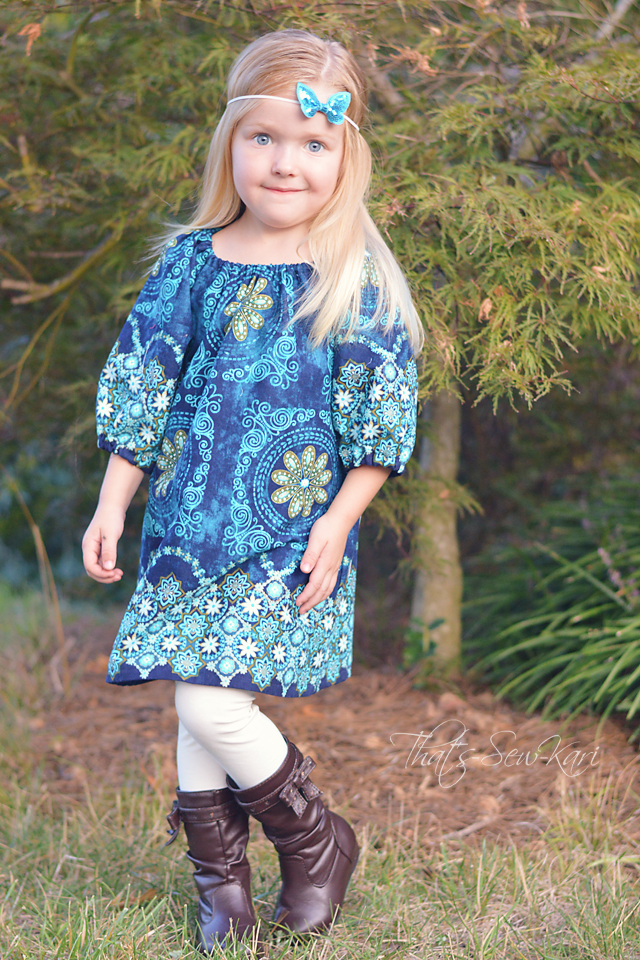 Yes,
Sew Groovy
is
a peasant dress, but it's way more boss (that's 60's slang for fantastic) than your run-of-the-mill peasant dress pattern. For starters, there are actual pattern pieces rather than the traditional rectangle cuts. The pattern pieces are a-line shaped so this means it's more slim fitting on top, but still a great canvas for gorgeous border prints as I've showcased here.
There are THREE sleeve lengths included in this pattern -- I've sewn the short-sleeve and 3/4-length sleeves. You can check out Kara's version of the long sleeves over at
Pattern Revolution
.
Fabric: Kanvas Bohemian Rhapsody Metallic Bohemian Border Medallion
Azure/Teal by Benartex
The size range starts at 6m and extends all the way to a girl's 14. On my little lady here (age 3), I sewed the size 3 in the black/red combo. For the blue dress, I cut the size 3, but extended the length to a size 4. I actually prefer the length of the size 3, but my daughter grew nearly 2 inches this summer so I wanted to ensure that my 'fall' dress will fit her all the way through.
Fabric: Black, White & Currant 5 Double Border Stripe Black
by Henry Glass & Co.
Did you know that this
entire
dress can be sewn with French seams? It makes the inside so neat and tidy! Sandra, owner of Ola Jane, includes French seams in all of her patterns (when applicable) and also gives instructions on how to straighten your fabric properly. Her patterns are truly lessons. The first time I used one of her patterns, the depth of instruction really impressed me.
Here's a quick recap of the pattern highlights:
Sizes 6m - girl's 14
3 sleeve lengths included (short, 3/4, and long)
A-line shape -- no boxy rectangle dresses
Instructions for French seams and straightening your fabric
Charts included: Size chart, Finished length chart, elastic cutting chart, yardage chart, and fabric layout guides for both border fabrics and non-border fabric.
Clear, easy-to-follow instructions with pictures at each step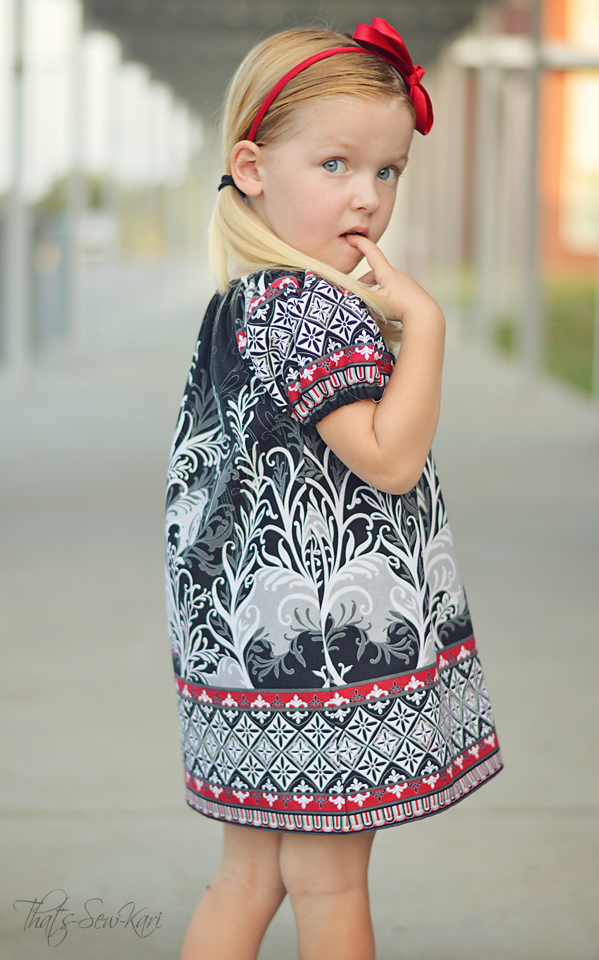 Wait, don't flee the scene yet... there's some far out news to share!
You can pick up Sew Groovy for just $5 now through Sunday at 11:59pm EST! Purchase your pattern HERE.
*If you previously own the original Sew Groovy, please email your receipt (to Ola Jane, not me!) to receive the updated sizing FREE (formerly Foot Loose & Fancy Free)
Sign up for the newsletter
HERE
and join the Facebook group
HERE
to stay in-the-know on all things Ola Jane!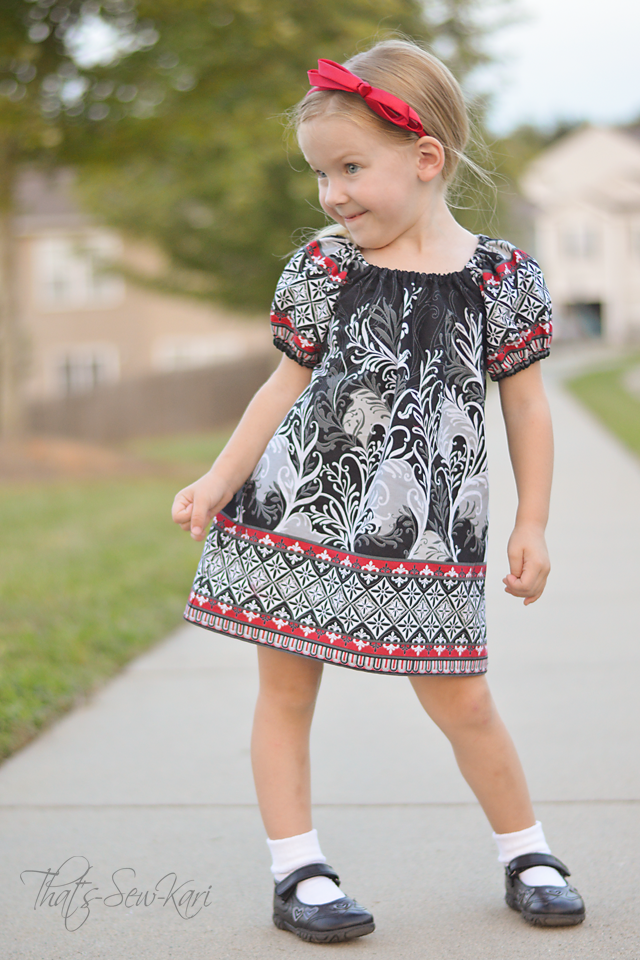 Bye for now!!