Hi everyone, I'm Kari. I love being a stay-at-home mom to my two cutie-pie daughters. When I'm not chasing my littles around, you can usually find me at my sewing machine. I used to sew Barbie clothes and scrunchies back when I was around 10
(yikes, that was forever ago!)
. Last September, I bought myself a sewing machine and dove in. I discovered the world of PDF patterns in April and my sewing has entered a whole new dimension! You can keep up with my sewing adventures here on Facebook at That's Sew-Kari.
I was very excited when I was approached by Pattern Revolution to review the Bubblegum Dress (how fun is this name?!) by Candy Castle Patterns. I had really wanted to sign up when it was in its pattern testing phase, but I was headed out of town. This was my second chance!
As soon as the pattern hit my inbox, I had it downloaded immediately and popped up on the screen to read! I had no idea what to expect except that the end product was adorable. Even though Candy Castle Patterns is a brand new designer, do not let that fool you! As I read through her instructions, I'm fairly certain my mouth was gaping open. These instructions are the most detailed and best laid out I have ever seen. The entire tutorial is set up like a chart. The actual written instructions (as well as step numbers) are in the left column and the pictures are in the right column. You cannot miss a thing with these instructions! Oh, and besides the neatness of the tutorial, the general aesthetics are fun as well. They really fit in with her candy theme! I also | that the tutorial showed the correct way to use bias tape. It's just one of those little details that adds a nice touch.
Okay, I'm really sorry I'm gushing, but I'm being totally honest! Love this pattern!
Sometimes, you just have to take a dance break!
T
his pattern does require some paper. There are 24 pages for the pattern and the sizes are color-coded. There is a gorgeous chart at the beginning of the tutorial that shows you how to lay all the pattern pages out. I just pulled it up on my computer and laid it out on the floor. Super easy, just took a bit of tape.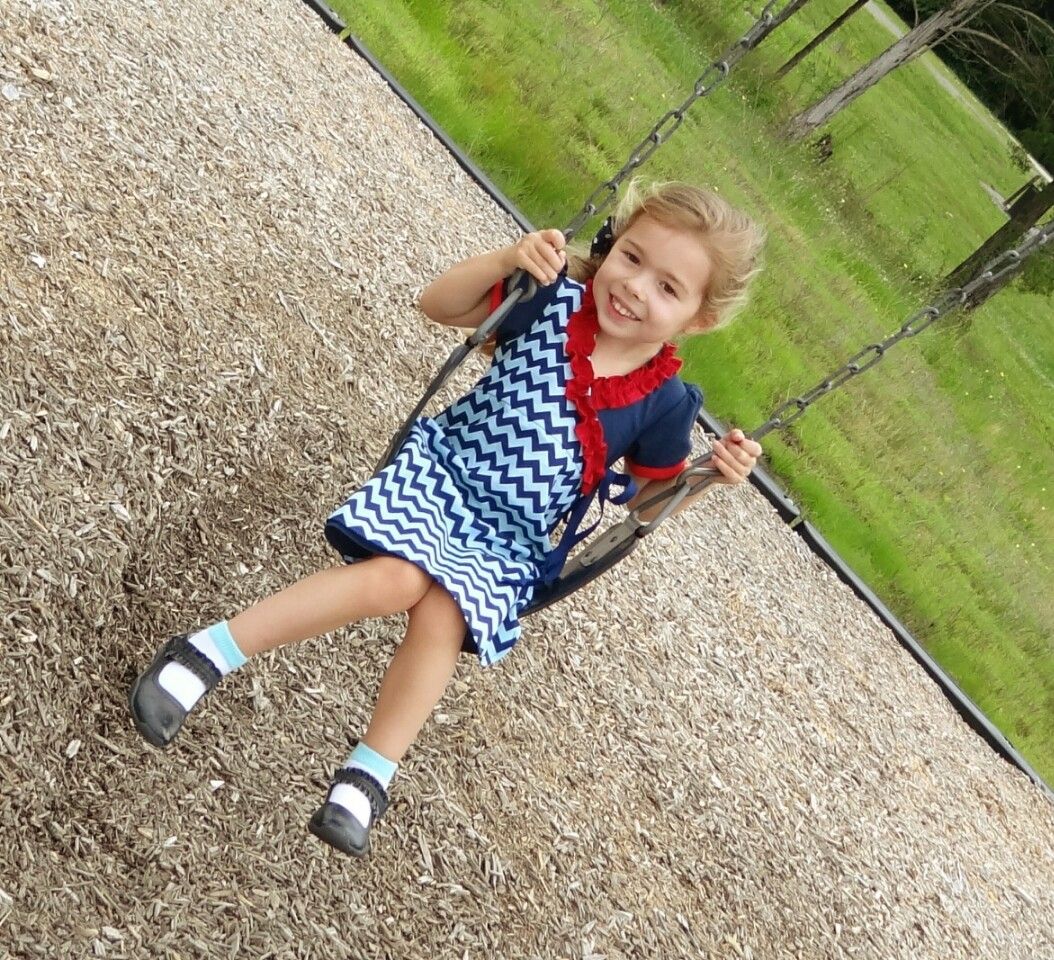 There are so many options with this pattern
–
you can trim some, all or none of the Bubblegum dress in bias tape, add a neck ruffle, use knits or woven, use all one fabric or really mix it up! I think I spent most of my time choosing fabric placement. I actually had to consult my design friend, Stacey Mann and my sister-in-law, Emily Steiger because I just
couldn't
decide!
I ended up choosing Riley Blake chevron in Aqua & Navy
and trimmed with red for a pop of color!
And because there are many options, the tutorial helps you navigate easily which instructions you need to follow. I was reminded of the "choose your own adventure" books I read as a kid
–
A+ for not having to hunt and peck what my next step would be.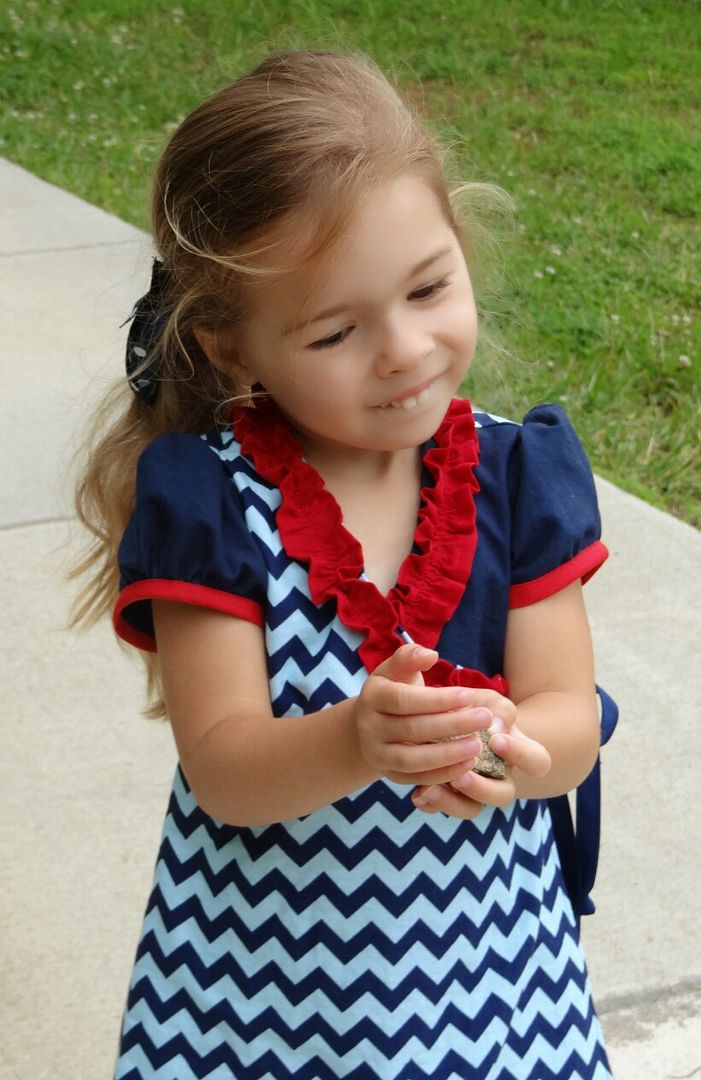 I'm loving the ruffled neckline option!
Construction of the Bubblegum dress was fairly straightforward. Everything lined up perfectly! I am a careful seamstress with high attention to detail so it took me two nights to finish (I sew only after my girls are asleep), but all in all, it was an easy sew. I would classify it as a beginner pattern. I know I'll be making more of these dresses
–
I think this might be a great pattern for some of my coveted Sarah Jane Children on Parade fabric along with its coordinates.
To quote my mom, "If you're going to do something, do it right the first time."
I'm pretty proud that I matched my chevron perfectly across the seam!
In case you haven't picked up on my excitement, I absolutely adore this dress and this new designer! Folks, the Bubblegum dress from Candy Castle Patterns is definitely a must-have. The fit is true-to-size, and since it's a wrap dress, it grows with your girl! Also, the pattern ranges from an itty-bitty 6 month size all the way up to your "all-grown-up" tween size 12. You can find the pattern here and follow her on Facebook to keep up to date. Next up for Candy Castle is the Jelly Bean skirt!
The sweetness of the this pattern apparently rubs off --
Big Sis being so sweet to Little Sis
Thanks to Pattern Revolution for inviting me to review such a great pattern and thank you Candy Castle Patterns for writing it!
Hooray for a great pattern and discovering
a fantastic new designer!
I'm pretty sure she was dialing Candy Castle Patterns
to say thanks for a super cute pattern!