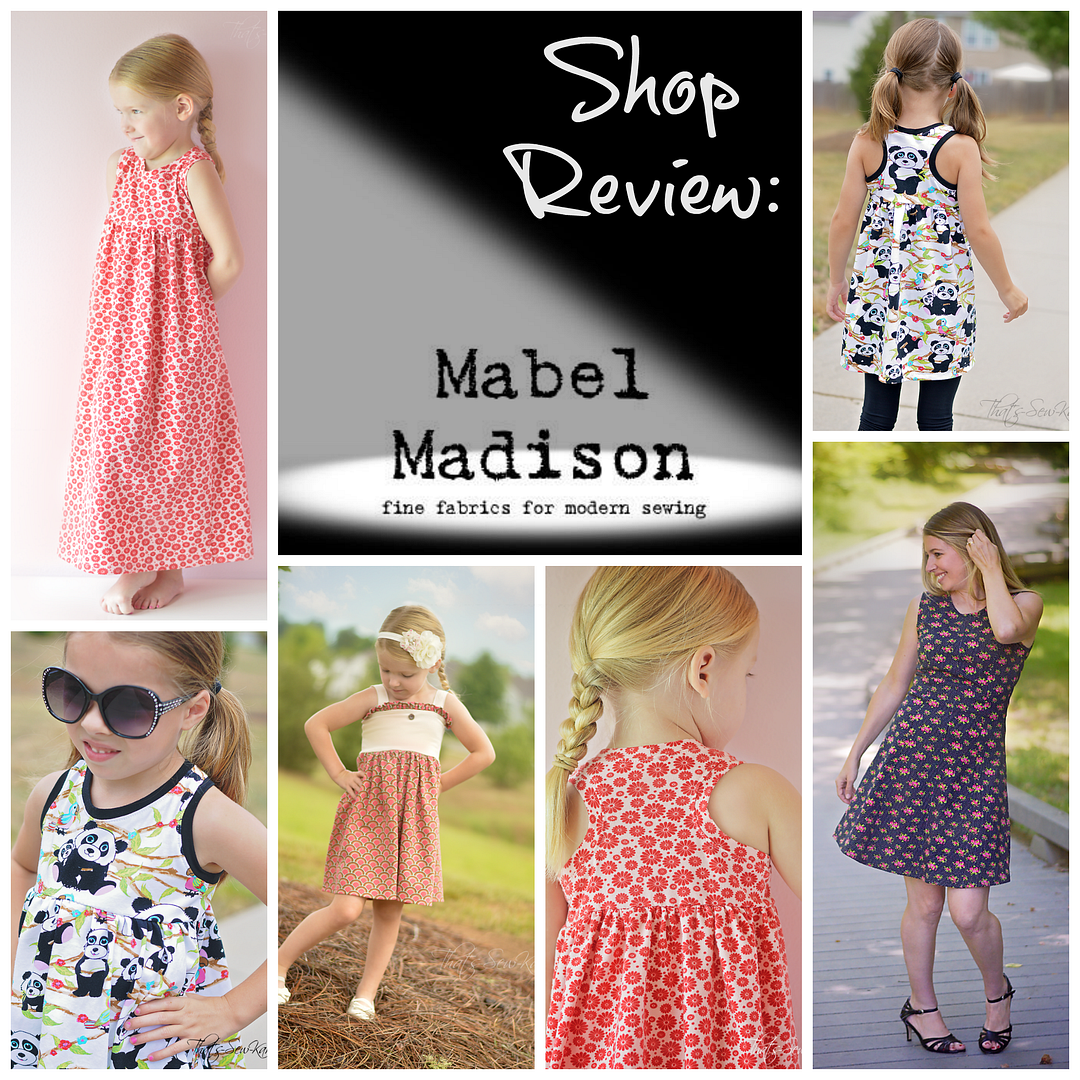 SHOP REVIEW: I've been fortunate to spend the month sewing up some of luxurious Euro knits that
Mabel Madison
offers. They also offer Euro poplins, flocked poplins, nicky velour and corduroy as well. This company operates under the belief that quality. service and relationships are of utmost importance.
_________________
QUALITY: Fabric quality is so important, especially for knit fabric. After all, with all the time and energy poured into sewing up your latest garments, you want it to last and look just as good years from now. If you've never had the opportunity to sew with Euro knit, you seriously need to. I know, it's hard to figure out the quality of fabrics while looking at a computer screen, but I've sewn many knits over the last couple of years and these [from Mabel Madison] are incredibly soft, wash well, and have great stretch and recovery.
My experience: I prewashed these knits using my normal routine (warm wash/hot dry) and was quite pleased that the shrinkage rate is quite low compared to other knits I have sewn.
_________________
SERVICE: Mabel Madison is owned by a husband/wife team. They strive to ship your order quickly (often the same day) and accurately. They don't like to wait for online orders and believe you shouldn't have to either.
My experience: In order to accurately give an opinion on ordering, I decided to place an order. It was easy to navigate their site, all fabrics have an option to pull up a viewing against a ruler, and was easy to pay using my PayPal. I ordered Friday morning and received my shipment Monday in my mailbox! My order included my invoice along with a handwritten note, and a business card.
__________________
RELATIONSHIPS: There's something to be said for small businesses. Your business matters. You are not just an order number - which is refreshing.
My experience: I've had the opportunity to converse back and forth with Emily of Mabel Madison. She is always professional and prompt in her replies and I can tell she is genuinely interested in the conversation we are having and seeing what I have sewn.
Here's a look at the fun knits I had a chance to work with this month:
Stenzo Pandas -- SOLD OUT
Pattern: Road Trip Racerback in tunic length by Little Lizard King
Now, these prints are obviously geared towards girls, because well, that's what I have! There is also a great assortment of fun boy prints (
found here
) and there are many fabric suitable for adults too!
I used some gorgeous roses on a pindot background for a dress in May, shown below:
Rose Floral on Pindot - SOLD OUT
Pattern: Davie Dress by Sewaholic
You will notice that a couple of the pictures say SOLD OUT and are not linked. Mabel Madison has a huge sale going on currently (thru July 31st) and stuff is moving fast! Click
HERE
to get to the details on the sale. (I will give you a hint: EVERYTHING is 50% off!) Quality fabrics are generally rather pricey, so here is your chance to experience high-quality fabric for half the cost.
There's also an additional special on
POPLINS
(US residents only):
Above, I mentioned placing an order -- here's what I chose:
I can't wait to sew these up! I will be sure to update you with how I decided to use them (and my thoughts on the quality and ease of sewing!)
Until then, my 4 year old wants to know:
Full disclosure: The knits featured in this post were generously provided to me by Mabel Madison. (The poplins have been purchased by myself). No further compensation was provided for this post, nor was I required to write this blog post. All thoughts, views, and opinions are mine and mine alone.