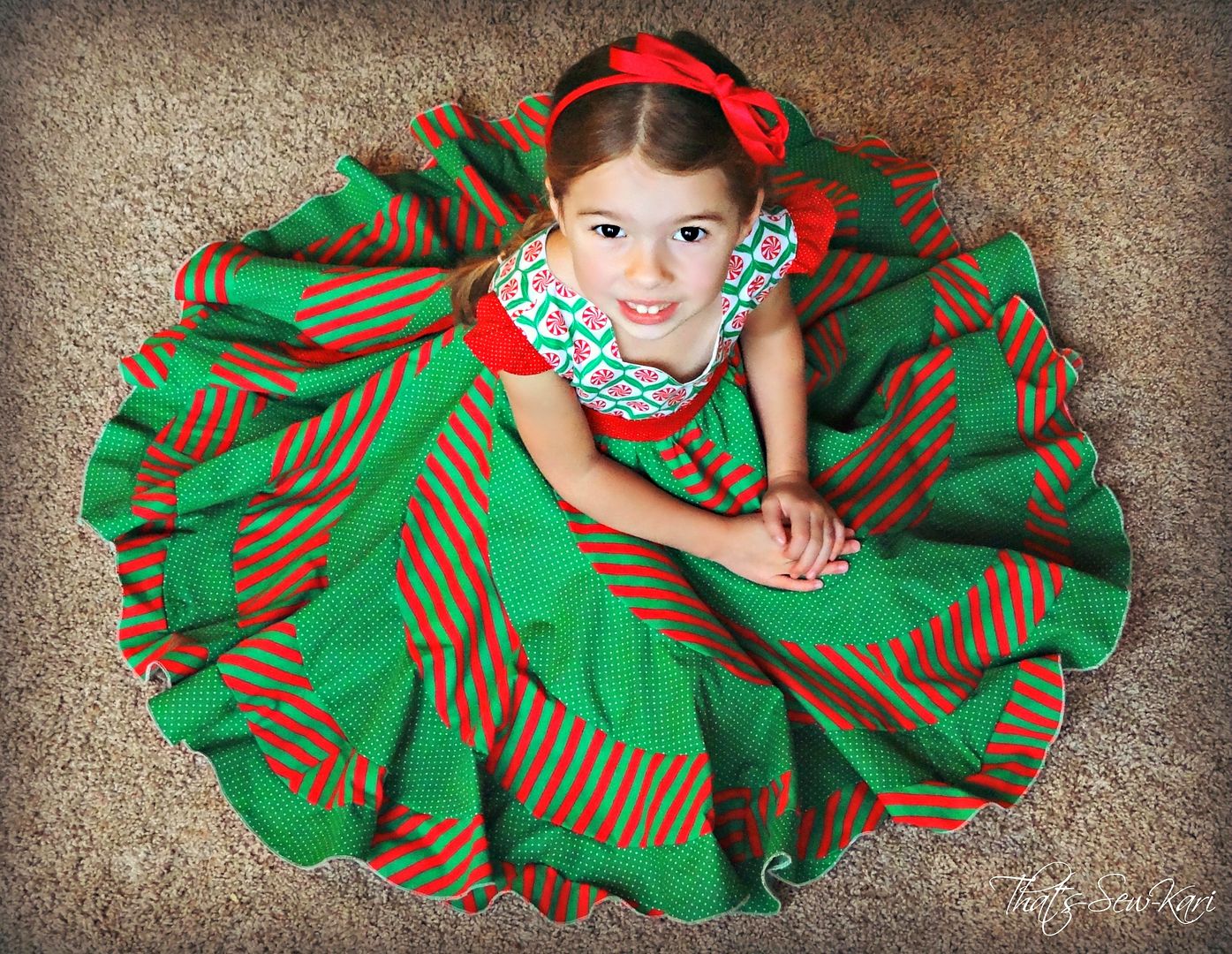 Squeeeeee!!!!! I am bursting with excitement today. It feels like Christmas for
Candy Castle Patterns
fans.
Today is not only the release of the highly anticipated
Peppermint Swirl Dress
, but also the debut of the new
Candy Castle Patterns website
!
About a month or so ago, in the
Candy Castle Patterns Group
, we were shown a sneak peek of the Peppermint Swirl Dress.... and it was love at first sight!! This showstopping dress has a gorgeous petal neckline, flutter sleeves and flounces upon flounces in the skirt for maximum twirlablity!
Immediately, my mind was swirling with ideas. The skirt contains 14 flounces (or more if needed for your color scheme) which is the perfect number of flounces for a rainbow dress. I was set on this idea for weeks, until I ran across "Peppermint" fabric at the store. I HAD to have it!!! It is perfect for Christmas and my 4 year old needs a super fun dress for school Christmas parties.


Here's an overview of the pattern:
Contains sizes 6m through girls' 10
Offers both a slim and regular bodice
Pattern pieces are color-coded and nested as well as a 2.5" test square to ensure proper printing
A printing guide which tells you which pages you need to print, based on bodice type and skirt size chosen
Both a measurement chart and yardage chart is provided
A choice of flutter sleeves, sleeveless, or you can use any sleeve (long slim sleeve, 3/4 sleeve, or short, puffy sleeve) from the Candy Castle Princess Dress pattern!
Step-by-step instructions with clear pictures to guide every seamstress through the process, no matter what your sewing level is
3 hemming options (rolled hem, bias tape hem, or traditional hem)
Inspirational gallery with lots of photos from the testers who worked so hard to ensure the best fit
Help, if needed, in the Candy Castle Patterns Group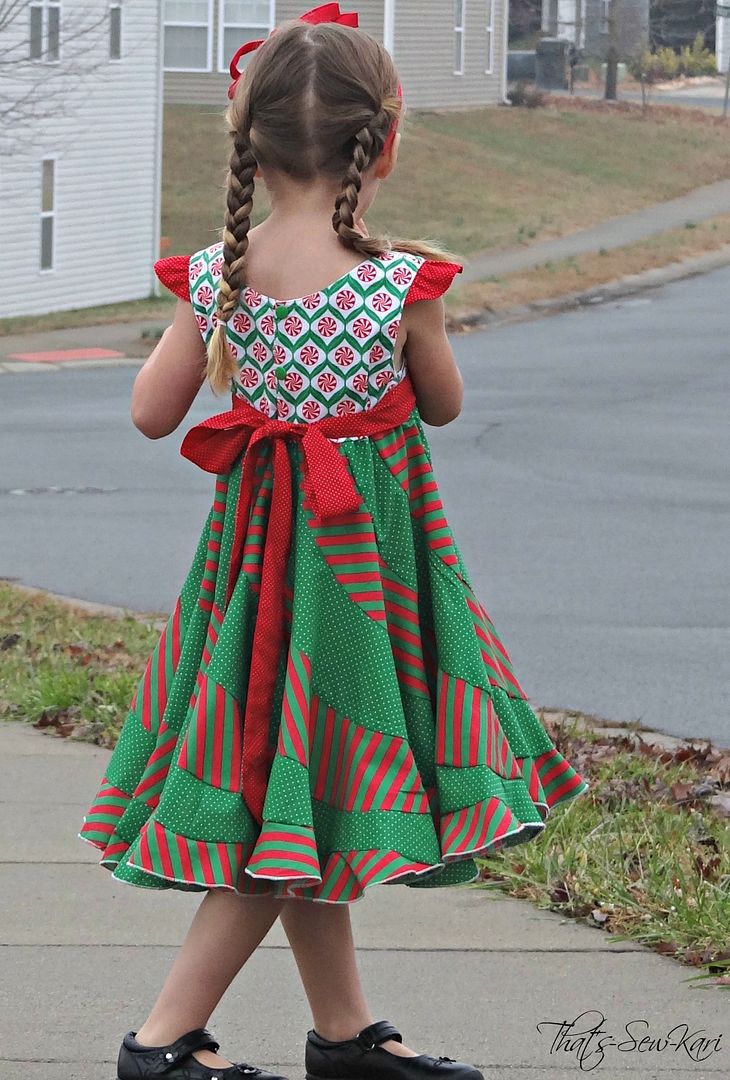 Back view: I used 3 Kam snaps in lieu of buttons
Sewing this dress isn't nearly as hard as it looks! I think it took me about as long to cut as it did to sew. If you stack your fabrics on top of each other, you can cut even faster. I actually cut my pieces one at a time. No pins required for sewing the flounces together or for hemming!! Ahh, such freedom :) If you have a serger, it does make construction faster, but totally not necessary.
Oh, and the twirl!!! YES, look at the twirl! If you can believe it, this is a 22-FOOT hem on this showstopper (this is the size 3)! Just marvel in all its glory!
She didn't want to stop twirling!!!
To celebrate its debut, Candy Castle Patterns is offering a sale (RARE!) when you purchase at least one additional pattern. Use the code
peppermint
during the checkout process at
www.candycastlepatterns.com
to save 20% when your purchase is at least $15. Don't delay, though, because the sale ends Sunday, December 8th at precisely 11:59pm MST.
Happy shopping and happier sewing!!!