I recently was given the chance to test another new pattern for Little Lizard King,
called The Retro Glam Skirt
. I
think t
his
is actually the 6
th
test
I've
done for them since the beginning of June (can we say busy?!)
This pattern was designed by Tricia Boyer, exclusively for Little Lizard King. It's a modern take on a vintage-style apron and it is EPIC. In the weeks leading up to the test, we were told that this skirt was BIG, FUN, and beyond EPIC – and boy, were they right! It's a playful skirt, with 10 scalloped panels pieced together with 10 upside down triangles, a flat waistband in the front and an adjustable waist in the back, rick rack trim and a huge bow that can be worn in the front or back.
As soon as I saw a sample of the Retro Glam Skirt, my mind was racing with possibilities. I have tested alongside some of the other ladies picked and they are all so talented. I began to think outside the box a bit. I really wanted to show the playful possibilities of this pattern. Enter the "Candy Corn Cutie" edition of the Retro Glam Skirt.
Seeing the scalloped pieces on the skirt, I
couldn't
get the images of candy corns out of my head. In my mind, my idea looked awesome. I decided I was going to keep my idea under wraps and give Tricia (designer) a few teases of my own. Okay, several. I think I strung her along for several days because once I got the skirt finished, I had to make a matching shirt.
I used 3 Kona solids – yellow, orange, and white – to make the candy corns. Then, I chose a black fabric with small white polka dot to give stark contrast to the 10 candy corns. I finished the bottom with black rick rack to tie in the black fabric and really continue the outlining of the candy corns. For the bow, I went back and forth between several ideas and finally settled on a two-tone bow – yellow and orange.
Once I got my candy corns pieced together, the construction of the skirt went fairly quickly. I was a bit nervous at first because of all of the piecing together, but the pattern pieces were spot on and I had no issues.
I really like that this pattern prefers that you use buttonhole elastic to cinch up the waistband. I had some on hand, but it's simple to make and the pattern walks you through it. My daughter has a smaller waist than most her size so this was perfect. It makes sewing on the waistband easier too since you add the elastic last. I tried it on my daughter and it fit perfectly!
My mind is still racing through possibilities of this skirt – some playful, some sophisticated and glam. I may never look the same at another triangle again!
A brief run-down of the pattern and tutorial:
1.
Pattern pieces are nested, in color and require at most 4 printed pages.
2.
Pattern pieces lined up perfectly across the pages and are well labeled.
3.
The tutorial portion of the pattern has step-by-step directions, clear pictures and is easy to follow/understand.
4.
There is a size chart at the beginning of the pattern along with an adjustable waistband to ensure the best fit.
5.
It comes with a doll sized pattern!
6.
For a limited time, it comes with Rockabilly Head Band pattern as well (not shown as I haven't sewn mine yet!).
7.
This pattern allows you to use your imagination and create a truly one-of-a-kind skirt.
This pattern is offered at Little Lizard King in two sizing bundles or you can pick up the whole set at a discounted price!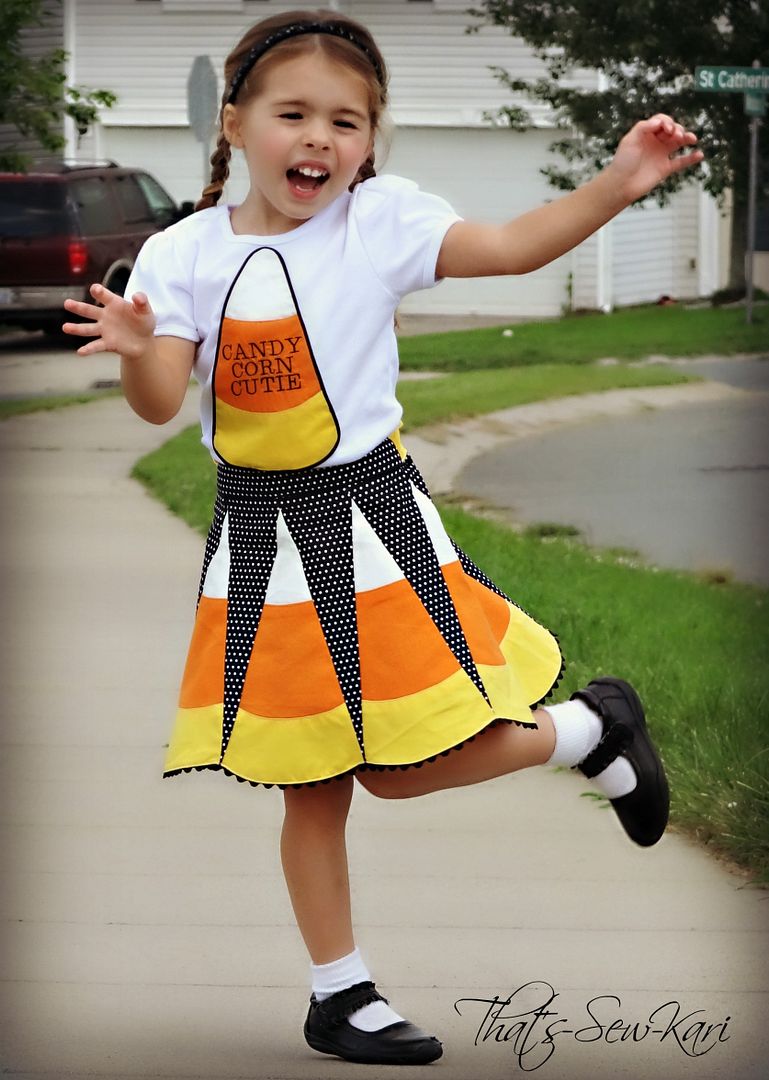 I haven't had a chance to sew up the doll version, but I can't wait to surprise my daughter with a Candy Corn Retro Glam for her doll, Willow!
If you like what you see, but feel like skipping the work, I have these skirts listed in my Etsy shop, That's-Sew-Kari! I can either create a Candy Corn Cutie edition or something entirely custom for you; just send me a message on Etsy.
If you'd like, you can also follow me on Facebook!
A special thanks to Tricia Boyer of Little Lizard King – this skirt was beyond epic and I can't wait to see what's next!