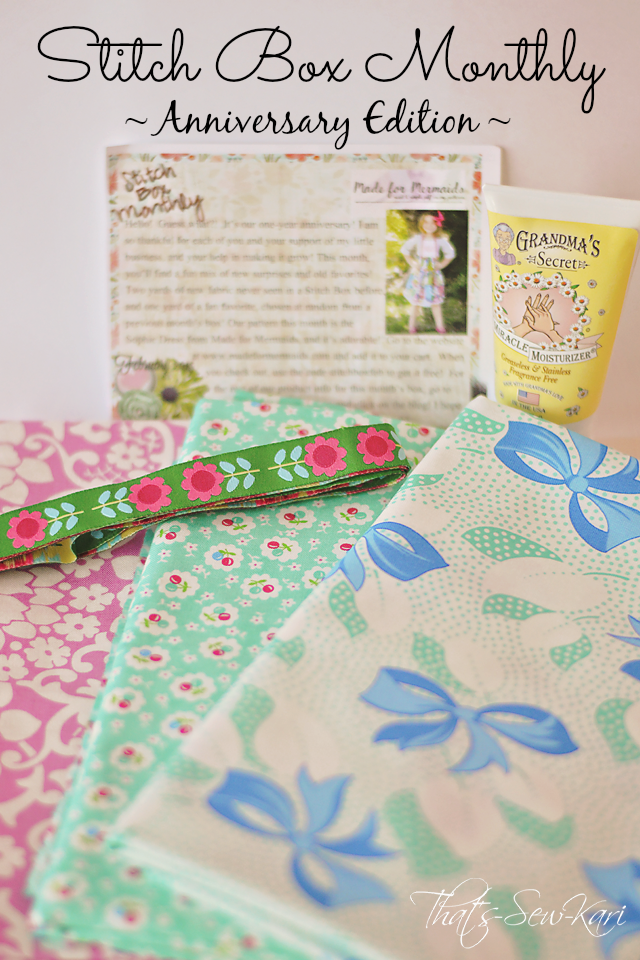 Yay for happy mail!!!
Stitch Box Monthly
is
such
a fun surprise and a great way to treat yourself (or your favorite seamstress... hint, hint) to some new sewing yummies. This is the third box I've received (read about
Box 1 here
&
Box 2 here
) and each time, I've received things I've never used before and have now fallen in love with. Seriously, you
need
to sign up!!
In case you've missed my other posts (tsk, tsk.... click the links above ... LOL), here's what the Stitch Box Monthly is all about:
Stitch Box Monthly is a mystery box of sewing goodies that shows up in your mailbox

each month (or however long you have signed up for). Each box has a theme and the supplies inside revolve around that.

Boxes are $35 including shipping (US

pricing-recurring subscription

), but you can get the boxes as low as $25/month if you prepay for the entire year.

[International shipping also available, see website]

Stitch Boxes contain at least $40 worth of sewing supplies -- 1-2 yards of designer fabric, sewing pattern, and a few notions
Before I get down to the good stuff, this month marks the 1-year anniversary for Stitch Box Monthly!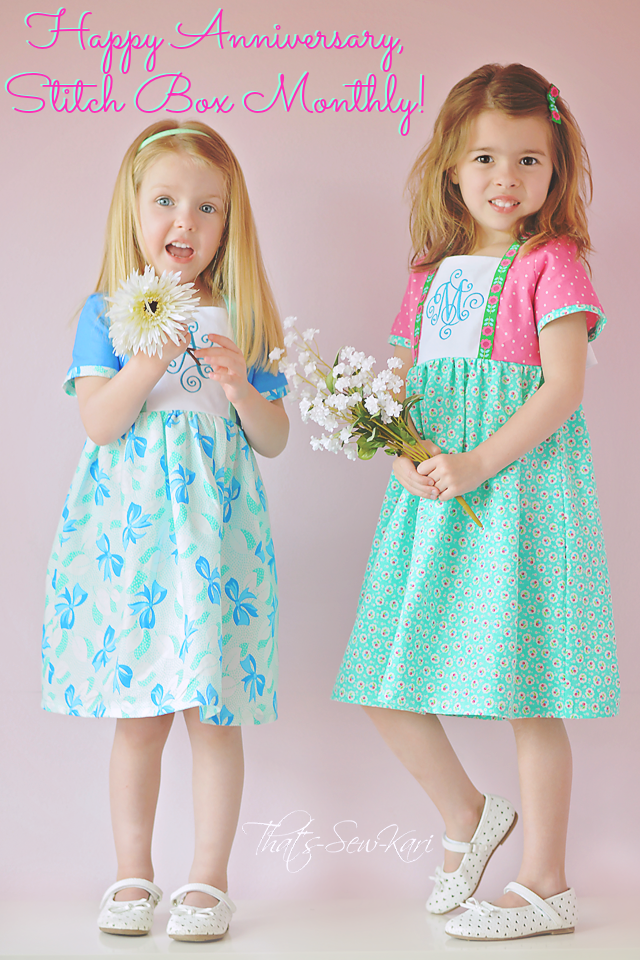 Eeeks, I can't handle the cuteness!!! When I
tore into
opened my Stitch Box Monthly (which was actually a padded poly bag this time since the goodies couldn't fit into the normal box), I loved it!!
Here's a rundown of this month's contents*:
2 yards of designer fabric -- Bandana by Me and My Sister Designs
Bonus yard of designer fabric from a previous month -- I received Beauty Queen by Jennifer Paganelli (June 2014 box)
1.5 yards of adorable flower ribbon trim
2 oz of Grandma's Secret Miracle Moisturizer
*Due to the large number of orders, the first collection of included fabric ran out (Daysail by Bonnie and Camille)
which was replaced by Bandana by Me and My Sister.
Some boxes also contained Mary Ellen's Best Press in lieu of the moisturizer.
Wowsers!! After I stopped marveling at my new pretties, and lathering my hands in my new lotion, I set out to get my plan together. In previous boxes, I've usually just picked one of my girls to sew for, but I thought the two Me and My Sister Designs Bandana prints would make adorable coordinating dresses. By adding in some solids and dots found in my stash, I was able to s-t-r-e-t-c-h my box as far as it could go.
As fate would have it, I happened to have some scraps of the exact shades of blue and turquoise found in the bow fabric. My youngest is blonde with gorgeous blue eyes and I knew this would be the perfect pairing for her. I used the included Sophie Dress - and decided I would embroider her initial on the center panel. I chose the Elegant Scroll (Small) Font by Itch2Stitch.
The *one* time I can't get her to show her pretty blue eyes...LOL
I originally made the dress with the included 3/4 length sleeves, but then realized that Easter is sometimes rather warm here in the South, and then remains hot the rest of the summer. I contacted Megan of
Made for Mermaids
to see if she had shorter sleeves and they were in testing!!! She was so kind to send the Add-On Pack my way -- thank you soooo much, Megan!! Because my dress was already complete, the only sleeve option (without redoing the entire bodice) was the short sleeves. I added a flat band of the skirt fabric to tie it all together. Now the dress can be worn all summer long!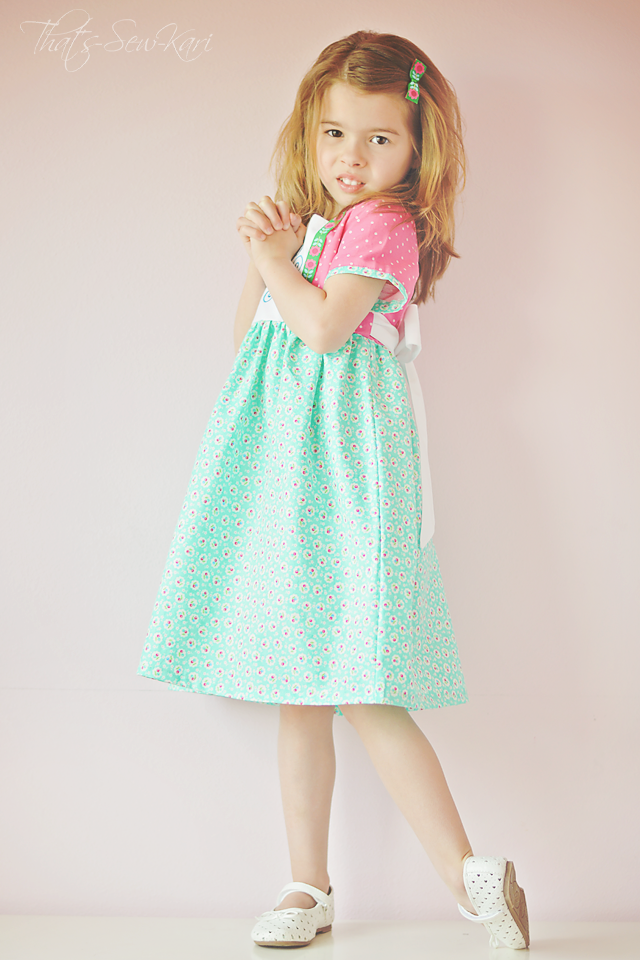 My oldest is a beautiful brunette with chocolate brown eyes and loves pink so I picked out the cherry print for her (sorry, but the J. Pag Beauty Queen is mine......all mine bahahaha) and just happened to have scraps of coordinating pink/white polka. The ribbon trim tied her dress all together. Truth be told, that ribbon trim is glued on. HA! I tried topstitching it, but you could see needle marks, so I carefully figured out where I needed it to go, got out my tacky glue, and voila - perfectly trimmed bodice. I also embroidered her initial on the center panel and sewed up the short sleeves for her with a coordinating flat band.
Since I had leftover ribbon trim, I used a bit to make a little bow for her newly-cut locks. It was the perfect accessory!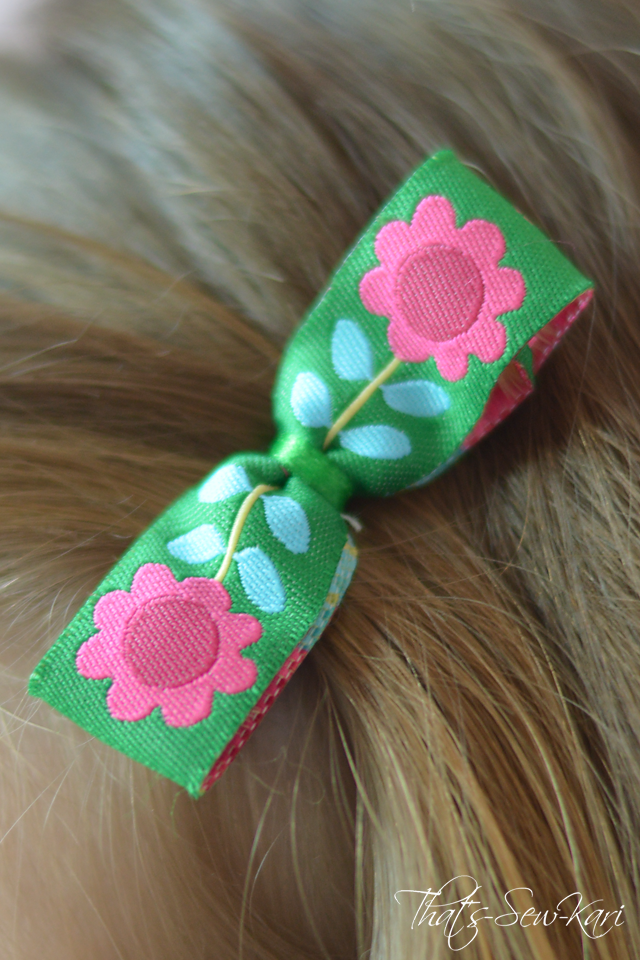 My girls just love their coordinating dresses! I thought the line of fabric was so fitting for them (Me and My Sister Designs) --- they often refer to themselves as "Best Sisters" -- which makes my heart so happy!!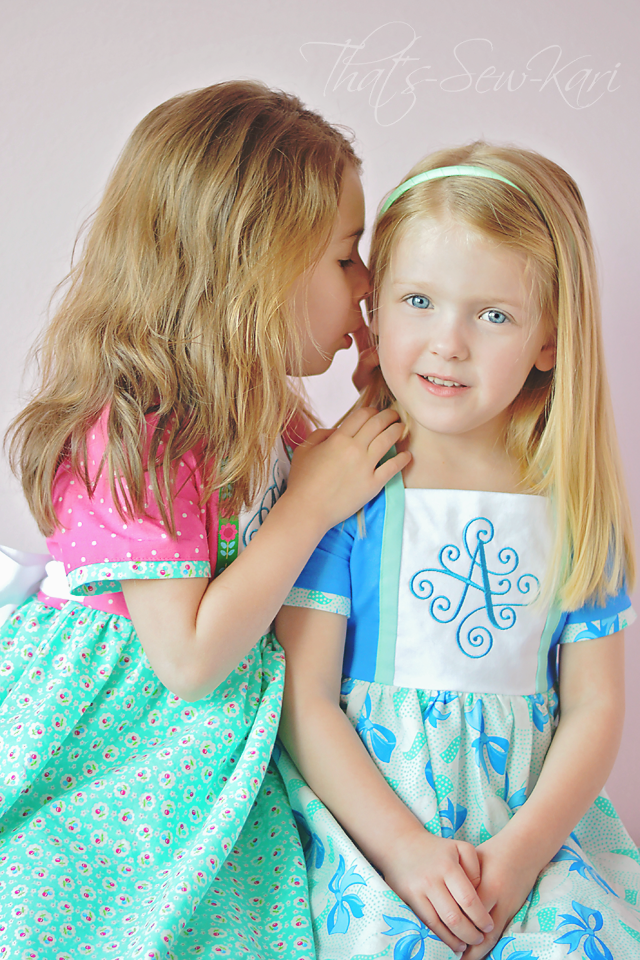 So, the box wasn't used entirely on my girls -- I have used the Grandma's Secret Miracle Moisturizer pretty much daily since I got it. I love that it's a lightweight, non-greasy lotion! There's no overpowering scent either. And honestly, I have to hide this lotion as my 4 year old is a lotion stealer.
Last, but not least, this beauty of a fabric (Beauty Queen by Jennifer Paganelli) will become something for me. I haven't quite decided what it will be and with fabric this gorgeous, you can't be hasty in your decisions.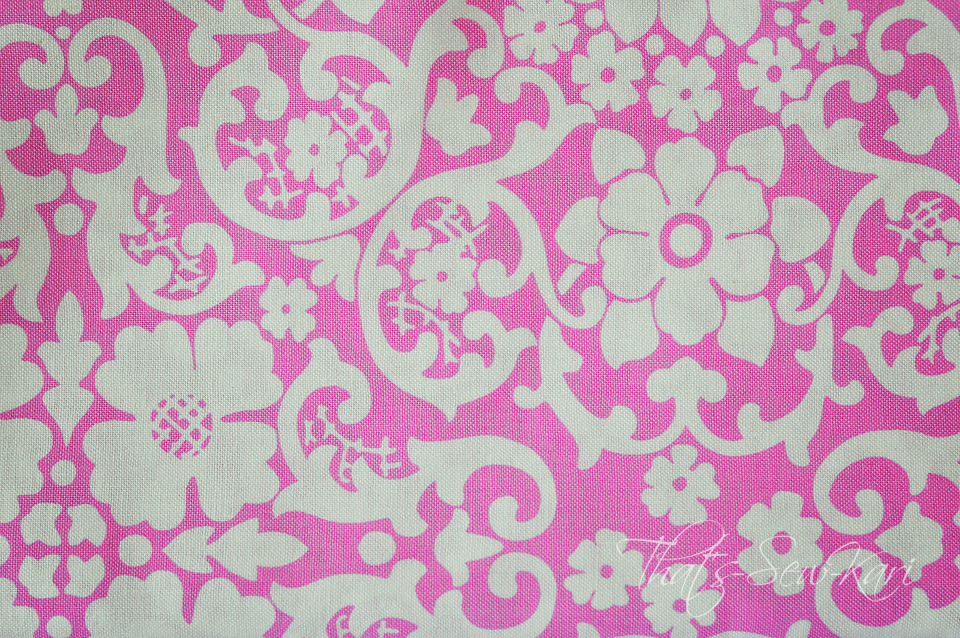 I was thinking of a Caroline (Mouse House Creations) or possibly a Jenny or Angie (Sis Boom) in tunic length. Or, I could possibly make it into a purse to carry! Leave a comment below with your suggestions!
Thanks, Stitch Box Monthly --- I had SEW much fun!!
___________________________________________________________________
Signing up for Stitch Box Monthly is easy!

Head to www.stitchboxmonthly.com to choose a 1, 3, 6. 12 month subscription or choose a recurring subscription every month

Add in your shipping info

Pay

Wait by your mailbox for your surprises!
*Orders received by the 20th each month are shipped at the beginning of the next month.
Orders received the 21st or after are shipped out the following month (ie. order March 21st through April 20th to be shipped early May).
___________________________________________________________________
*****If you sign up for April's Box, you'll get it just in time for Mother's Day --- seems perfect to me!*****
So, I messaged Katie, the owner of Stitch Box Monthly to see if she'd give me any hints for the upcoming boxes! Soooo, here are some sneaks :)
March Boxes (last day to order is March 20th): Be on the lookout for Australian fabric designers, Ella Blue and one of my favorite pattern designers, Brownie-Goose!
April Boxes (order March 21st - April 20th): Get excited for some yummy fabric by the talented Tula Pink!!!
*Disclaimer: In exchange for my review, I was shipped a complimentary Stitch Box. All thoughts and opinions are mine. I received no further compensation, other than hugs and kisses from my daughters for their new dresses :)